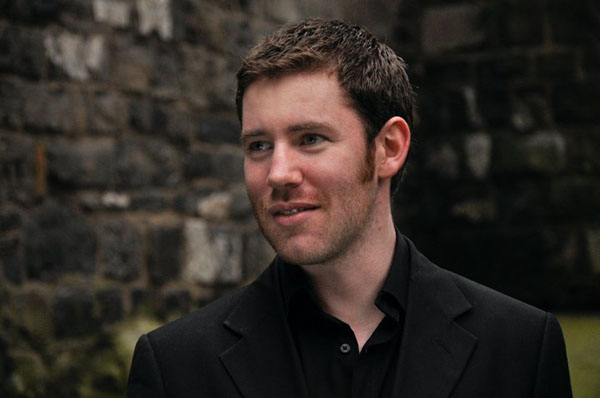 Adam Cullen is a competition-winning Irish composer & writer. 
He is active as a composer for media and live ensembles. His work has been performed in Ireland, Germany, and the United States and his soundtracks for short films have travelled extensively.
He was awarded the North Kildare Film Commission to write, produce, direct, and compose the music for an animated film entitled Talker. It is scheduled for release in early 2017. In 2016 he was awarded a bursary by Screen Training Ireland to study film music in Bulgaria with esteemed Hollywood Composer Christopher Young.

PhD in Composition, Dublin City University, (2020)

Pulse College Christopher Young Film Scoring (2016)
Masters of Literature (MLitt), National University of Ireland, Maynooth (2009)

Bachelor of Music (BMus), National University of Ireland, Maynooth (2007)
Enchiriadis Chamber Choir
Society for Musicology in Ireland (SMI)
Millicent Singers

Tours & Major Performances:
Llangollen Eisteddfod (2015) winner of the Pavarotti Trophy for 'Choir of the World'
Malaga Interkultur (2014)
USA Tour (2013)
France Tour (2009)
Publications, Papers & Major Performances
To the Frozen Sea (Viola and Piano) commissioned and performed by Brett Walfish at Stony Brook University, New York (2016)
Behold a Great Red Dragon commissioned and performed by Enchiriadis Chamber Choir (2016)
Lorica commissioned as Title Track for Maynooth Chamber Choir's debut CD (2015)
Eikon commissioned and performed by the Maynooth Chamber Choir (2014)
For the Mountains Shall Depart presented at Texas State University (2013) and Mitte Museum Berlin (2012)
Right and Wrong published in 30 under 30 Summer edition (2012)
Schubert's Chamber Music as a Road towards a 'Grand' Symphony - paper presented at international Schubert Conference Thanatos as Muse? Schubert and Concepts of Late Style(2011)
Schubert's Chamber Music as a Road towards a 'Grand' Symphony major thesis for MLitt (2009)
Dialectic Process and Sonata Form in Schubert's A minor String Quartet, D804 - paper published in Maynooth Musicology vol.2 (2009)
NUI Maynooth Composition Competition Winner (2009) for Tenebrae Factae Sunt
Schubert's Chamber Music as a Road towards the Symphony - paper presented at Maynooth Music Department Postgraduate Conferences, and the Society for Musicology in Ireland conference, published in Maynooth Musicology vol.1 (2008)
Numerous works for solo guitar (2000-2006)
Exploration for Guitar (2006) – c4min; Guitar solo
For Bruce (2006) – Piano solo – c2min; premiered by Peter Leavy
Futility (2006) – Soprano voice, Alto Saxophone and Computer – c6min; premiered by Aoife Cuddihy, David McGauran, and Adrian Smith at CMC's New Noise exhibition
Untitled (2006) – Flute, Clarinet in Bb, and Violoncello – c6min; recorded by Susan Doyle, Finton Sutton, and Martin Johnston
When David Heard (2008) – Chamber Choir – c4min
Tenebrae Factae Sunt (2009) – Chamber Choir SSAATTBB – c4min; premiered by Maynooth Chamber Choir conducted by Ruaidhrí Ó Dálaigh
The Owls (2009) – Chamber Choir – c4min; for the Millicent Singers
Bread of the Maginot Line (2010) – Guitar and Voice – 10:38min; for short film directed by Andrew Warrington
Evolution: Towards and Understanding of the Bible (2010) – Electroacoustic – 8:57min
Begin (2010) – Soprano and Piano – c4min
Cold to an End (2010) – Flute, Violin, Violoncello, Piano – c7min
The Gradual Individual (2010) – String Quartet – c6min
Island (2010) – Chamber Choir – c5:30min
If a Whale Dreams Deeply Enough (he will discover a synthesizer) (2010) – Electroacoustic – 8:40min
For Each His Own (2011) – Electroacoustic – 10:04min
The First Spider on Earth (2011) – Electroacoustic – 1:42min; presented at Disaffection Theatre Company Multi-Media exhibition 'Echoes'
Never Refuse a Handshake (2011) – Electroacoustic – 1:41min; presented at Disaffection Theatre Company Multi-Media exhibition 'Echoes'
Granite (2011) – Soprano and Piano – c5min
For the Mountains Shall Depart (2012) – electronic – 1min; premiered at Mitte Museum Berlin, 60x60 installation
Brainbelt (2012) – VI Soundtrack – 20sec; for promotion film directed by Alan Dunne
Forgot (2013) – VI Soundtrack – 2:27min; for Animation directed by Stephen McNally
1984 (2013) – VI Soundtrack – 1:22min; for promotional film directed by Alan Dunne
The Same Side of Different Coins (2013) – Electroacoustic – 4:33
Bridges (2013) – VI Soundtrack – 5:13min; for Short Film directed by Laura Cullen
Eikon (2014) –Mixed Choir, Percussion, Harp, String Quartet, and Organ – c20min; premiered by NUI Maynooth Chamber Choir conducted by Michael Dawson, Catriona Frost, Denise Kelly-McDonnell, Sébastien Petiet, Anne Phelan, Feargal Ó Dornáin, Yue Tang, and David Grealy at St Patrick's Chapel, Maynooth
Meanwhile (2014) –VI soundtrack – 4:57min; for Animation directed by Stephen McNally
Cradle Song (2014) – Chamber Choir – c2:30min; for Cantáirí Avondale Choir
Suite for Woodwind (2014) – Wind Quartet – five movements c7min; recorded by Cassiopeia Winds at DIT Rathmines
Burned Wishes (2014) – VI Soundtrack – 30sec; promo for film directed by Cian McGarrigle
School's Programme (2014) – VI Soundtrack – 30sec; for promotional film directed by Alan Dunne
OFFSET Limerick (2014) -- VI Soundtracks -- 1:15min and 15sec versions; opening titles and speaker name cards for OFFSET conference 2014 directed by Steve MacDevitt and Greg Corcoran
Naughty or Nice (2014) - VI Soundtrack - 30sec; for promotional film directed by Alan Dunne
Feeling, Thinking, to the Frozen Sea (2014) - Viola and Piano - 9:12min; commissioned by Brett Walfish (USA, Stony Brook University)
Lorica (2015) - Chamber Choir - c5min; for the Maynooth Chamber Choir's upcoming CD